Fruska Gora-Danube Region at the Belgrade Tourist fair
Presentation of the most significant results of project "Sustainable Tourism Development in Fruska Gora Danube Region", on Saturday 21st February, on the NTOS stand.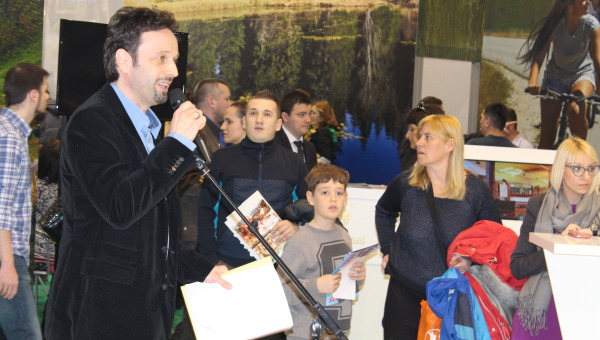 On Saturday at noon, in the presence of guests and fellow workers, Gordana Plamenac, NTOS CEO, and Ivan Ivanovic, KAS vice-president, presented the most significant results of joint work in the past year and half.
They pointed to contribution to the development of sustainable tourism in Fruska Gora-Danube Region such as: establishment of the Resource Center, new touristic programs creation and promotion in Serbia and abroad, networking and cooperation of stakeholders from public and private sector, building capacity of touristic offer providers in the region etc.
Along with promotional film and cocktail, guests discussed the matter of achieved results and made connections in the light of new work possibilities in the Region. Media representatives used the opportunity to talk with partner organizations representatives.
The project is implemented by Camping Association of Serbia in the the partnership with Tourist Organization of Serbia and Fruska Gora National Park, with support from Austrian Development Agency and European Union within the IPA 2011 program, Socio Economic Development in the Danube Region, and Autonomous Province of Vojvodina, Provincial Secretariat for Economy, Employment and Gender Equality.