National park
Fruska Gora has been officially proclaimed as National Park area in 1960, becoming the first conservation area in Serbia.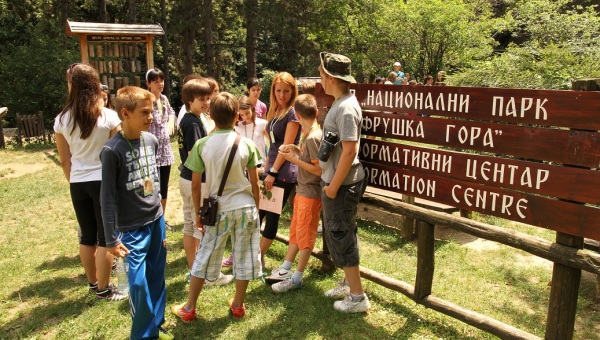 National Park is the highest category of environmental protection which indicates the great significance of its ecosystems, present plant and animal species, prominent landscape shapes and cultural heritage. An even more, it is a symbol of national pride, indicating awareness concerning significance to save natural wealth for the sake of future generations. Fruska Gora National park covers surface around 25,525 km2, with length of 80 km and broadness in range 12-15 km.
Fruska Gora's flora is wide ranged and the range is very specific. The central zone of the National Park is covered with around 1000 different plants species, but all together the protected area is host to more than 1500 species of plants. Pastures and arable land, wineyards and orchards on the lower parts of Fruska Gora are natural ornaments for the eye of viewers. Above 300 m, the sloaps and peeks are covered with denst broadleaved forests, composed of oaks, lindens, hornbeams and other species. This mountine is the host to the biggest population of linden, allover Europe. Beside reachness in forests, this area is host to more than 700 species of aromatic and medical plants.
The animal world is reach and wide ranged. Some 60 species from 16 families and 42 genuses of mamals exist together e.g., deer, mouflon, weasels, wild boar, marten, wild cat, chacal, rabbit and other. Most of them are indigenous, except the Fallow deer and mouflon, which are breeded in reservat conditions. From the total number of mamals, 38 are protected species as became rare in natural environment. There are more than 200 species of birds, where some rare predators are significant: Imperial eagle, Kestrel eagle, Saker falcon, hawk and others.
Fungus make group of disintegrators, mineralisators of organic products, significant in natural processes of circulation of matter and energy. Fungus could be find on pastures, swamps, flooded pastures and forests and wherever land is not cultivated. Until now, around 500 species have been recorded. Some of those are sunstroke, chanterelle, peppermint thrush, and other.
The main role of National Park is to provide persistent protection and to save ecosystem, as well as carrying scientific research and educational activities. Nevertheless, the protection of ecosystem could not be just the role under National Park administration, without all of us who come and enjoy being trapped and amazed with its overwhelming beauty.
The Information Centre sit is located on Iriski Venac place, near the monument. The Information Centre is the starting point of all cultural, scientific and tourist events in National Park.