Conference hall
Conference hall is fully equipped and able to provide comfort in group work for up to 25 participants. Working space is reach with sun light during the day and interior furniture is in light colors, inducing stimulative atmosphere for work.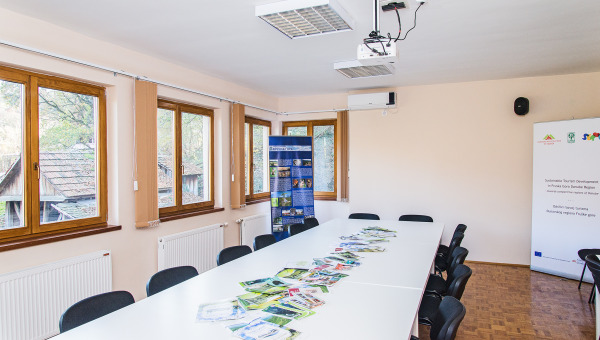 The multifunctional hall is fully equipped with audio and video systems. The performance of audio system is provided by wall mounted high quality speakers and 4 channel's amplifier. Video system has 2 components: Big LED LCD monitor and video beam projector, mounted on the selling with adjustable holder to project on the entire wall.
It was great attention given to high performance work, so all wall installations relevant for connection of various audio/video devices to the computer of presentator are available and concentrated in one place, allowing to participants not being disturbed while presentator set and handle with it, in order to perform presentation. All the participants have equal and good access to various plugs for electricity and local network being allowed to choose between cable or wireless signal for access to the local network and Internet.
All the windows are equipped with striped curtains and it is possible to blackout the hall, partially or completely.
During the brakes, participants can enjoy on spacious terrace with a view and refreshment being prepared in well equipped kitchen.
Beside usage of multifunctional hall inside the Center, the group work could be organised outside, taking advantage of enjoying in work on fresh air of spa Strazilovo, during the mild weather.
Just in front of the Center building, in the thick shadow of old pines is placed wooden gazebo made out of pine, fully roofed and organised in 4 sets for 6 participants, each and equipped with wooden bar for serving refreshment. Beside, as a part of Center complex, there is another smaller gazebo with barbecue installation, ready to be used for catering purpose in case of daily work.
Across the road from the Centre there is a camping site with a complete infrastructure suitable for hosting various educational programs. Wooden furniture, barbecue pits and shades of both coniferous and deciduous trees provide comfortable conditions for outdoor work.
Closely to the Center complex, app. 30 m in air line is placed another complex, convenient for group work of participants, consisted of central well equipped kitchen and 3 roofed terraces with rustic exterior in bricks flooring and wooden sitting sets under thick, natural shadow. There is full barbecue installation for preparing catering in daily work option and the whole complex is ideal for team building activities.