LEADER 1 Conference of Fruska Gora Danube Region
After 5 Info Days and 148 participants from 5 Municipaliities organised during the January-February period 2015, LEADER Conference of Fruska Gora Danube Region was organised from 1st – 2nd April in Vrdnik, Premier Aqua Hotel.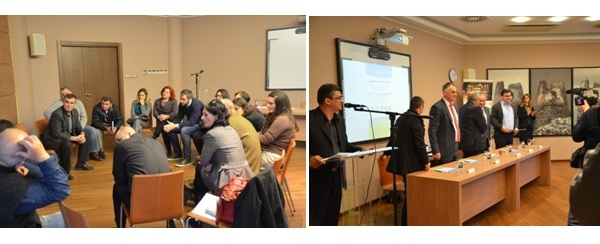 Conference is new step in complex bottom-up led process of establishment of Local Action Group Fruska Gora – Danube under EU LEADER/CLLD approach.
At the Coneference 5 Local Meyers in presence of local and regional media have officially accepted and signed common Protocol of Inter-municipal cooperation in area of sustainable development. Protocol document outlines commondevelopment framework for 5 municipalities from Fruska gora and officially recognise the initiaitve for establishment Local Action Group Fruska Gora – Danube, first time after its launching on 24th Novembre 2014 by local stakeholders.
The Conference have participated distinguished guests, the representatives from LAG Baranja, R. Of Croatia, representatives from Doboj town from R. Of BIH and representative from Regional Secretariat of Agriculture, Water Management and Forestry, who adressed to the participants. Some 60 participants have joined and worked on the Conference, selected on the basis of their application after taking part on Info Days and criteria in order to represent all 3 sectors, in balanced manner.
The moderation of 6 working groups of participants  was carried out by 6 selected participants from all 5 municipalities who have been trained under one-day Training. The moderation was carried in professional and efficient manner with lot of enthusiasm. The moderator of the Conference was the Coordinator of WG of establishment LAG Fruska gora – Danube, Dejan Gluvacevic.