Visit to the First Croatian Rural Parliament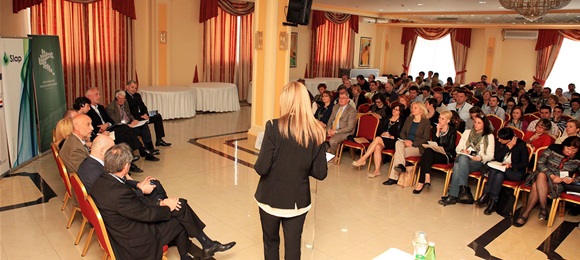 After invitation coming from our kind hosts colleagues from LAG Baranja to participate on First Croatian Rural Parliament in Beli Manastir, the representatives from Resurce Center FGDR and Sremski Karlovci Municipality have joined and actively participated for two days at the Conference.
This was the National event with aim to gather representatives of Local Action Groups from allover Croatia and by creating friendly working environment to encourage exchange of experiences, networking and common work under new format with strong team building component.
From the very beginning we met warm welcome from our kind hosts who have been dedicated to their host role and who demonstrated strong capacity of one active and well organized LAG.
On first day, the work at the Conference was based on series of plenary sessions with high ranked guests from EU and national Parliaments becoming more participative on day 2 through series of well organized workshops all over Baranja Region. The writer of this news have enjoy in Drava river from the position of peddler in a small canoe, next to the old farm renovated and arranged in old style. After little exercising in shaky canoe the reward was waiting the participants in the shape of domestic paprika soup with hand madden test nose. Then, the workshop has started in English language, chaired by representative of one EU organization.
The whole event was well organized with strong presence of media and nearly 300 participants becoming definite success for hosts, Conference managing pool, but useful for Baranja Region, also. The concept of the Conference itself, has allowed strong promotion of Baranja Region as multicultural region with preserved tradition and visible wide efforts that have been undertaken to make alive and available today, the traditional values built over centuries ago.
We, as guests, have been able to see the example of good practice in how to structure and organize the conference as successful event and to establish new and strengthen the existing contacts with appreciation to our hosts who was relentless in meeting us with their friends and colleagues.